Smart Wireless Electricity Energy Monitoring and Control System
with Home Solar Power Monitoring Function
More and more homeowners in the world have installed solar power system or wind micro generator in their homes to generate clean power, reduce the electricity consumption cost and protect the environment as well.
Our wireless home 2-way energy monitoring and control system (solar version) belongs to our bi-directional (2-way) system and is developed specially for households installed with home solar plant, providing a perfect solution for the home owners to monitor both the home electricity consumed in total and the energy produced by solar.
Working Diagram of 2-way home energy monitoring and control system (Solar Version):

The system displays to the family members in real time the balance value between the house energy consumption and solar energy production. It allows the user to set intelligently automatic switching on/off function for targeted appliances according to the threshold balance value between the energy consumption and solar production.
Furthermore, the controller provides wireless remote control of home electrical appliances when the family members want to respond to unsatisfactory balance data of home energy consumption and solar energy production.
The user can also set the alarm function to make the LED light give different color according to the balance value between the home energy consumption and solar energy production.
If you only want monitoring function and don't need the control function, please refer to our home energy monitors with solar power monitoring function.
Our products are also being integrated into solar inverters and smart meters, that's the in-home display we are manufacturing for some world brands.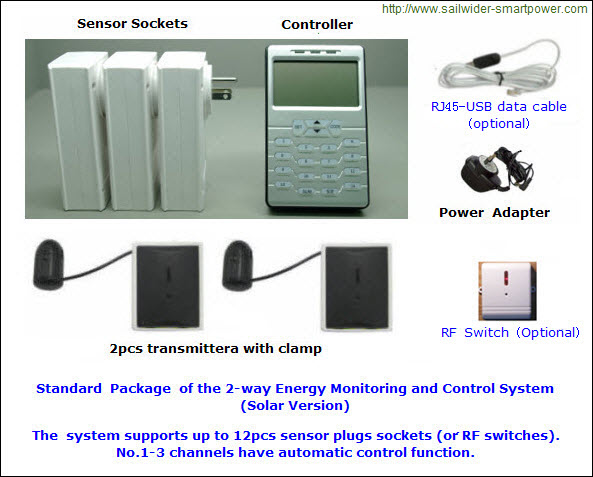 The Controller's buttons and LCD screen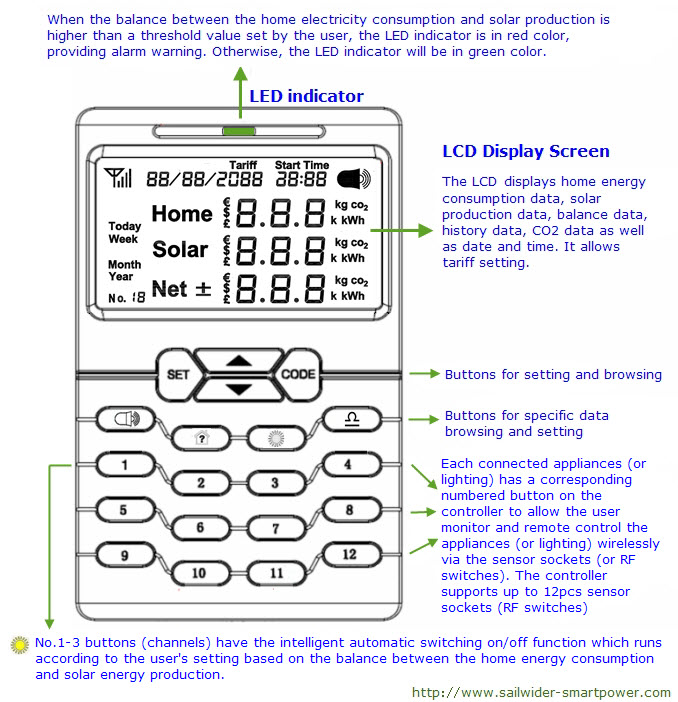 Basic Introduction of the 2-way energy monitoring and control system solar version
The wireless electricity monitoring and control system RCS-S09L with Home Solar Plant monitoring function consists of below parts:
1pc controller with power adapter: The controller receives data from the transmitters and sensor plug sockets and displays the real time data and history information of home energy consumption, solar energy production as well as each appliance's energy consumption on its LCD screen. The Controller also sends switching on/off instruction wirelessly to the sensor plug sockets to remotely control the appliances.

2pcs 1-way transmitters with sensor clamp: One transmitter is for monitoring the total home energy consumption, the other for monitoring the solar energy production. Both transmitters send the collected data to the Controller wirelessly.

Several 2-way sensor plug sockets that are used to monitor and remote control connected appliances in the system. One system can support up to 12pcs sensor pug sockets. And, No.1-3 sensor plug sockets have automatic intelligent switching on/off function according to the balance between the home energy consumption and the solar energy production.

1pc RJ45-USB data cable to provide computer link.